Time : 08'37 min
Soundtrack :
Rémy Laurençon
Original format : Mini DV
Copies : 35mm, Mini DV, Béta SP Pal
Distribution : Agence du court-métrage
Résumé : Un homme se retrouve confronté à des images violentes du monde. Son Icare réagit et se déploie. Notre Icare est un film qui pose à chaque spectateur une question vaste où chacun y trouvera sa propre réponse : Pourquoi en sommes nous arrivés à exploiter des souffrances réelles du monde en un objet de consommation et de divertissement ? Voulons-nous prendre le risque de sortir du labyrinthe que nous avons nous-même construit ? Il faut se remémorer notre Icare, le réveiller ensemble… Cet Icare qui sommeille en chacun de nous… cet élan créateur.
Technique : hybridation d'images vidéo (VHS), de film super 8, de peinture sur pellicule et d'images 3D.
Infos : Ce film a bénéficié de l'aide à la post-production de Thécif Région-Ile-de-France.
Synopsis : A man is confronted to violent images of the world. His Icare reacts and soars. Notre Icare is a film that asks every viewer a vast question to which every one will have their own answer : why do we use real sufferings as a consummation and entertainment product? Do we want to take the risk to get out of the labyrinth we ourselves created? We have to call back our Icare, to wake him up together…this Icare asleep in every one of us..this creating desire.
Technique : hybridization of video images, Super-8 images, hand painting film and 3D images.
To know more : this film received the help of the Thécif Région-Ile-de-France for post-production.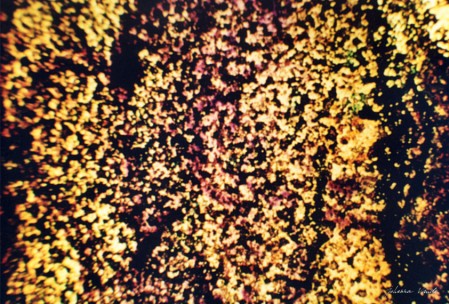 PROJECTIONS :
2022
>FESTIVAL TOUS COURTS, La Manufacture, Rétrospective expérimentale, Aix-en-Provence, France

2015
>FORUM DES IMAGES, Bibliothèque François Truffaut, Mois du film expérimental et de l'art vidéo, Paris, France
> WINTERLONG GALERIE, Exposition « High in Light » – Moulins du Roc, curator : Eric Surmont – Niort, France
> VILLA ARSON, conférence / rencontre avec les étudiants dans le cadre du GREV (groupe de recherche et d'experimentations visuelles), Nice, France
> LUX, Scène Nationale de Valence, Hybride : court-métrage de Johanna Vaude, Valence, France
2014
>MILLENNIUM FILM JOURNAL, Publication screening, Harun Farocki tribute, Brooklyn, New York, USA
> Café Central de Bruxelles, « Entrez dans la matière », curator : Jean-Manuel Fernandez, Bruxelles, Belgique
2013
> LUX, Scène Nationale de Valence
Focus Johanna Vaude : Hybride – No limits for vision, curator : Catherine Rossi-Batôt – Valence, France
2011
> VIDEOFORMES
Focus Johanna Vaude, curator : Gabriel Soucheyre – Clermont-Ferrand, France
2010
> DIFFRENT DIRECTIONS FILM FESTIVAL
Women Filmakers – Galway, Ireland
> 26ème RENCONTRES GINDOU CINEMA
Carte blanche à Michel Armarger – Gindou, France
2009
> LE LANGAGE DES VISCÈRES À L'ARCHIPEL
Poésies, lectures, concerts, projections, curator : Amine Bouccekine – Paris / France
2008
> AZA DIGITAL CINEMA FESTIVAL
 »Experimental : The art of Johanna Vaude », curator : Yiannis Zachopoulos – Thessaloniki, Greek
> WERKSTATTKINO (Cine-club) 
Screening of the « Hybride » DVD – Munich, Germany
> THE PASSAGE FILM FESTIVAL – What is The Human Condition ?
Doyle Fine Arts Building, Murray State University – Kentucky, USA
> DEMON – Théâtre de l'Institut Français de Madrid
Programme 3 : Les artisans. Curator : Nicole Brenez & Elisabeth Sarre – Madrid, Spain
> i^3_CATEGORY TERRORISTS FESTIVAL
(international ♥independent ♥interstitial) festival – Chicago, USA
> SEANCE IMPAKT Johanna Vaude
 »Sound & visual experiences » at the INHA (National Institut of Art History)– Paris, France
> DRESDNER SCHMALFILMTAGE 
Focus Johanna Vaude, special guest – Dresde, Germany
2007
> NFF / NEW FORM FESTIVAL 07
RE : USE, The convergence of media art, electronic music and the exploration of culture – Vancouvert, Canada
> STRAWBERRY SUPER 8 FESTIVAL – International Super 8 Festival
Compétition 1 & competition 3 / University Sports & Social Club, Mill Lane – Cambridge, UK
> CINEMATHEQUE FRANÇAISE, SOIREE JOHANNA VAUDE
Séance découverte : Lancement du DVD « Hybride » édité par le label indépendant LOWAVE / Projection et signature en présence de Johanna Vaude, curator : Pierre D'Amerval – Paris, France
> TRAVERSE VIDEO # 10 : La Re-visite
Séance : « La métaphore » – Toulouse, France
2006
> 8° FESTIVAL DES CINEMA DIFFERENTS DE PARIS 
Séance Trajectoire : films de Johanna Vaude au centre culturel « La Clef » – Paris, France
> (SUPER) REEL DAMES FILM FESTIVAL
La Sala Rosa – Montreal, Québec
2005
> ARTE / Court-Circuit, le magazine
Court-circuit présente une émission sur les films de Johanna Vaude réalisé par Gilles Perru – France, Allemagne
> MK2 BEAUBOURG 
Séance monographique : "Johanna Vaude's films" / Curator : Hugo Verlinde – Paris, France
2004
> 13th FESTIVAL DE CORTOMETRAJES DE MADRID
Cinamateque Espagnola – Madrid, Spain
> GALERIE DU JEU DE PAUME
« Un inventaire contemporain II » – Paris, France
> ACADEMIE LIBANAISE DES BEAUX ARTS
Université de Balamand – Beyrouth, Lebanon
> FESTIVAL CINE POBRE
Muestre National des Nuovos Realizadors – Cuba
> (SUPER) REEL DAMES FILM FESTIVAL
La Sala Rosa – Montreal, Québec
2003
> 39ème MOSTRA INTERNATIONAL DEL NUOVO CINEMA
French Avant-Garde / Johanna Vaude special guest – Pesaro, Italy
2002
> FESTIVAL CÔTE COURT DE PANTIN
"Focus : Johanna Vaude. L'élan du coeur", curator : Jacky Evrard – Pantin, France
> FESTIVAL DES NOUVEAUX CINEMA ET NOUVEAUX MEDIAS DE MONTREAL
FCCM « Les Parallèles » – Montreal, Quebec
> FESTIVAL NEMO
Next « Découvertes » – Paris, France
> LE CUBE
« Vidéo expérimentale » / magazine Repérages – Issy-Les-Moulineaux, France
> (SUPER) REEL DAMES FILM FESTIVAL
La Sala Rosa – Montreal, Québec
2001
> 45th LONDON FILM FESTIVAL
Curator : Mark Weber – London, UK
> FESTIVAL DU COURT METRAGE DE NICE
Expérience 2.0 par le magazine Repérages – Nice, France
> CINEMATHEQUE FRANÇAISE
Focus dans le cadre de "Jeune, dure et pure !", carte blanche à Raphaël Bassan – Paris, France
> 19ème FESTIVAL TOUS COURTS D'AIX-EN-PROVENCE
Programme Expérimental 1: « Voyages plastiques » – Aix-en-Provence, France
> FESTIVAL DES CINEMAS DIFFERENTS DE PARIS
Collectif Jeune Cinéma – Paris, France