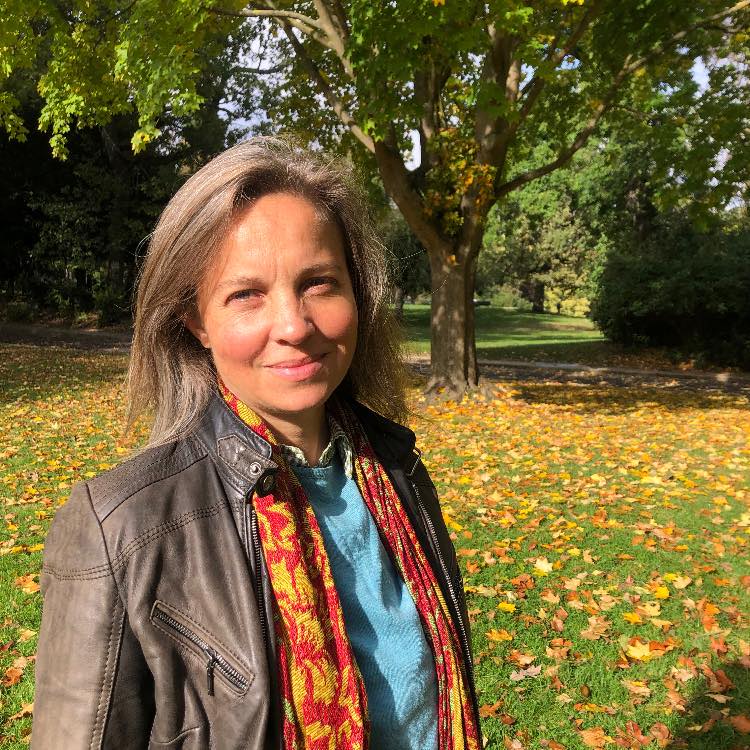 Johanna Vaude is an artist who, single-handed, produces highly distinctive films.
She masters all stages of production, from the conception of the film to the création of the soundtrack, from the montage to the achievement of highly special effects.
Johanna Vaude is unclassifiable through the way she masters various techniques and influences, exploring different film categories and combining many artistic influences : music, colour, rhythm, poetry, fiction, experimentation, feelings, sight and sound emotion are all at the heart of her créations.
At the end of the 90's, Johanna Vaude begins to produce her short films independently of traditional systems. They are soon screened in festivals and cultural locations ; different aspects of her work are rapidly presented in France and abroad. [see the detailled list]
In 2005, the channel Arte presents a portrait of the filmmaker in Court-circuit, its weekly magazine.
In 2006, she is made responsible for the avant-garde programmes of the Cinémathèque Française (French Arthouse Cinema) on the strength of her theory : « Grafting, fusion, heredity : hybridation and new technologies according to Johanna Vaude » (this relation between art and science is edited in the scientific review « Corps »).
A monographic DVD entitled « Hybride » then comes out under the label Lowave with the support of the CNC (National Cinema Committee)
In 2008, an excerpt of her film « L'œil sauvage » (« The Wild Eye ») is included in the installation « TH.2058 », created by the artiste Dominique Gonzalez-Foerster and presented in London at the Tate Modern.
Since 2011, Johanna Vaude is a regular guest of Blow Up,the cinema programme of the channel Arte.tv. The programme gives her carte blanche in the production of her videos in montage form as a hommage to the 7th Art.
Several of these videos have been singled out in articles published in the Inrockuptibles ; in interviews on France Culture ; through a media stage set at La Gaîté Lyrique ; in an entry on Première and Konbini; during a screening at the Ministry of Finance and Economy qualified as « Super-Edit » by the cultural media Nowness.
In 2017, she is awarded the Prix Label Image by the Passeurs de Lumière at the SCAM : « Johanna Vaude, alchimiste de l'image » (« Johanna Vaude, image alchemist »).
In 2019, her musical video « I'm more than a machine » (robots in cinema) is shown at the Paris Philharmonic during its exhibition « Electro », devoted to electronic music (From Kraftwerk to Daft Punk). The exhibition is to continue in 2020 and 2021 at the London Design Museum and in 2022 at the Kunstpalast in Düsseldorf.