Le Found Footage –Magazine– vient de sortir son nouveau numéro sur le cinéma expérimental qui remploie et détourne les images. A cette occasion, des photogrammes de mon film Super 8 « Totalité » (1999) sont présentés sur une pleine page !
Ces photogrammes sont de photos récupérées du pré-cinema avec de la peinture directement peint à la main sur sur pellicule Super 8.
---
The new issue of the Found Footage -Magazine– (dedicated to experimental cinema) has published my Super 8 photograms from my film « Totalité » !
Technique : hybridization of photos, of drawings filmed on Hi8 video and on Super-8, hand painting film
---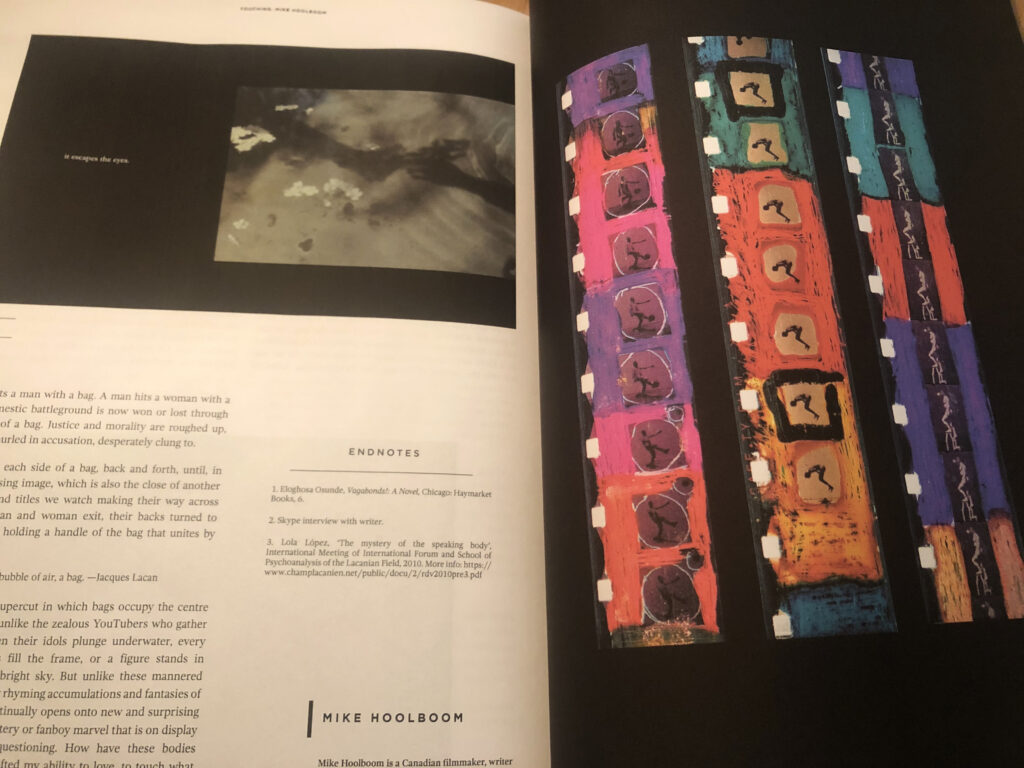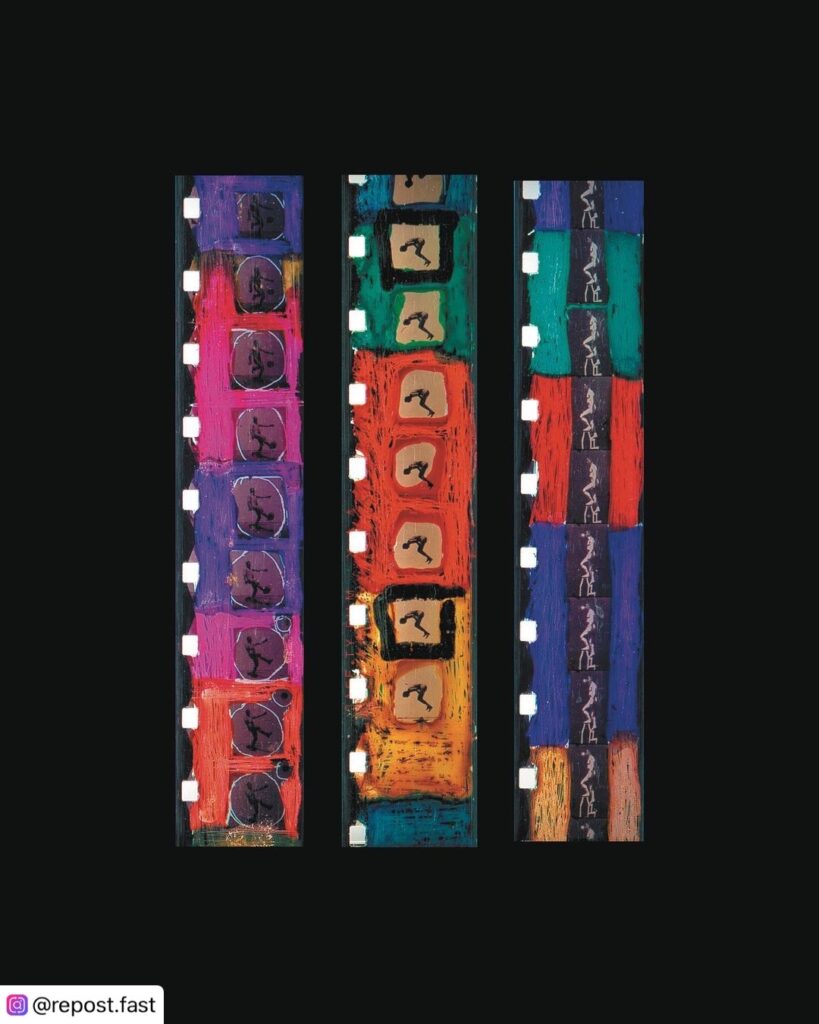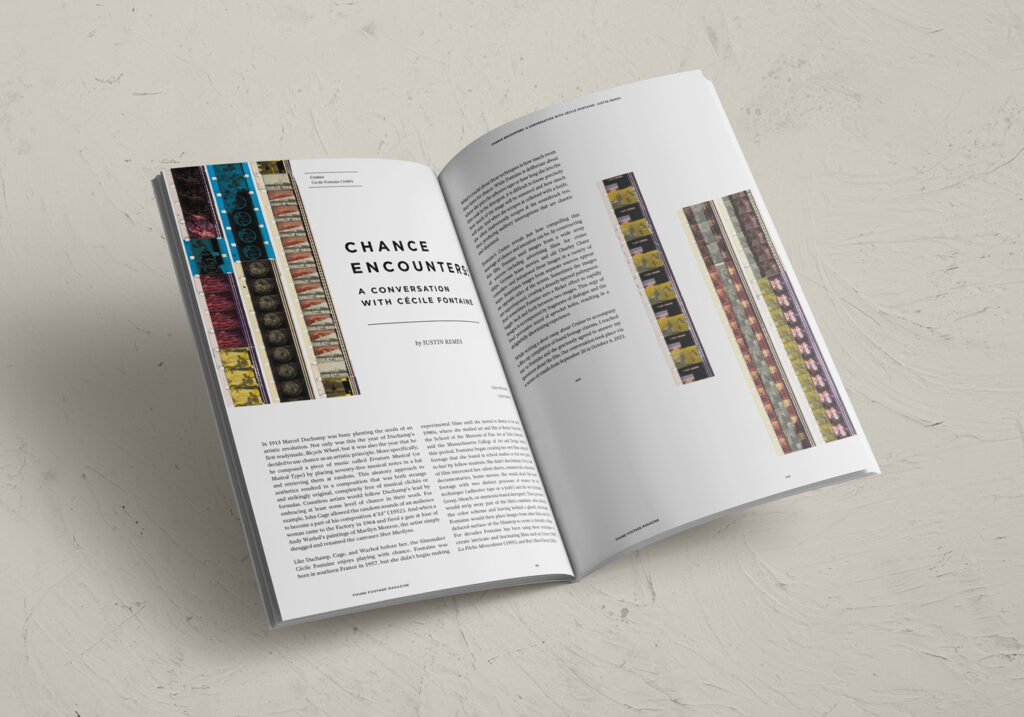 New Issue #8 – 2022 edition
* Abigail Child on focus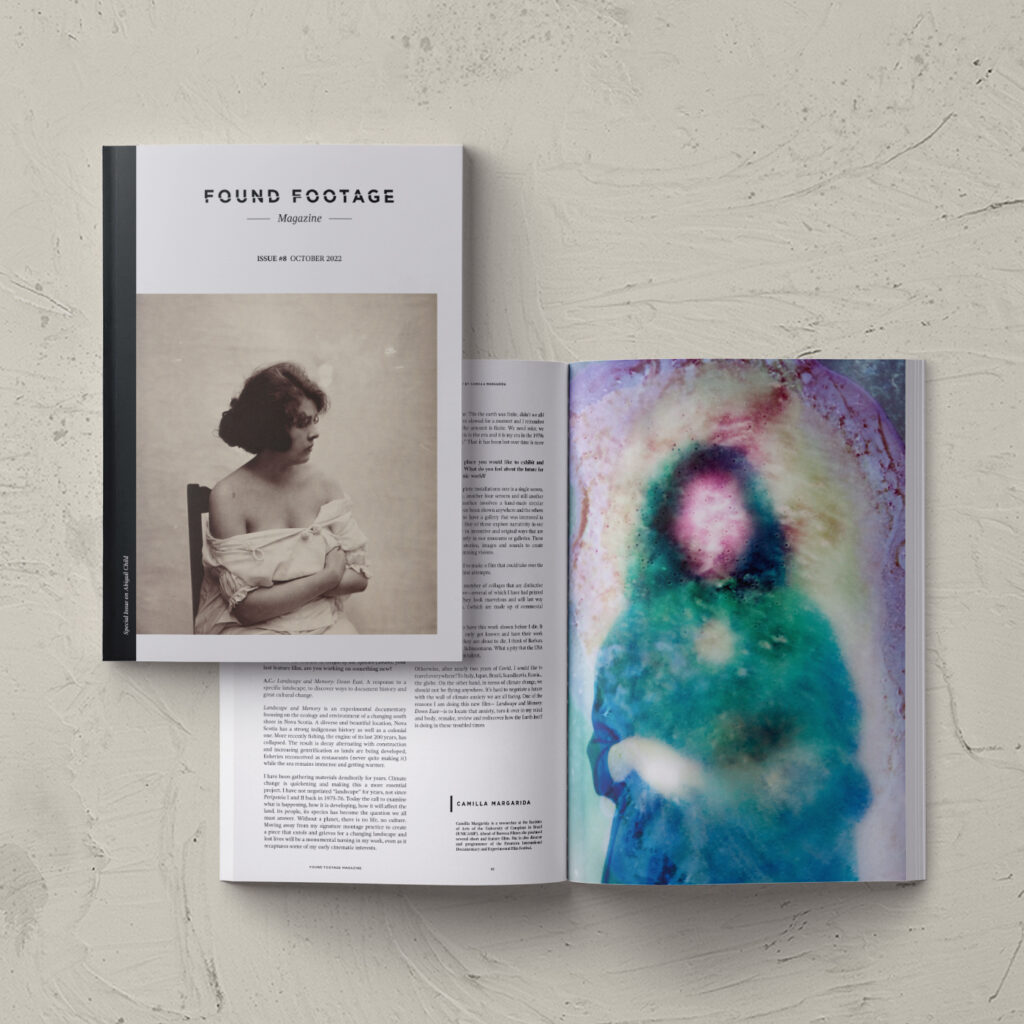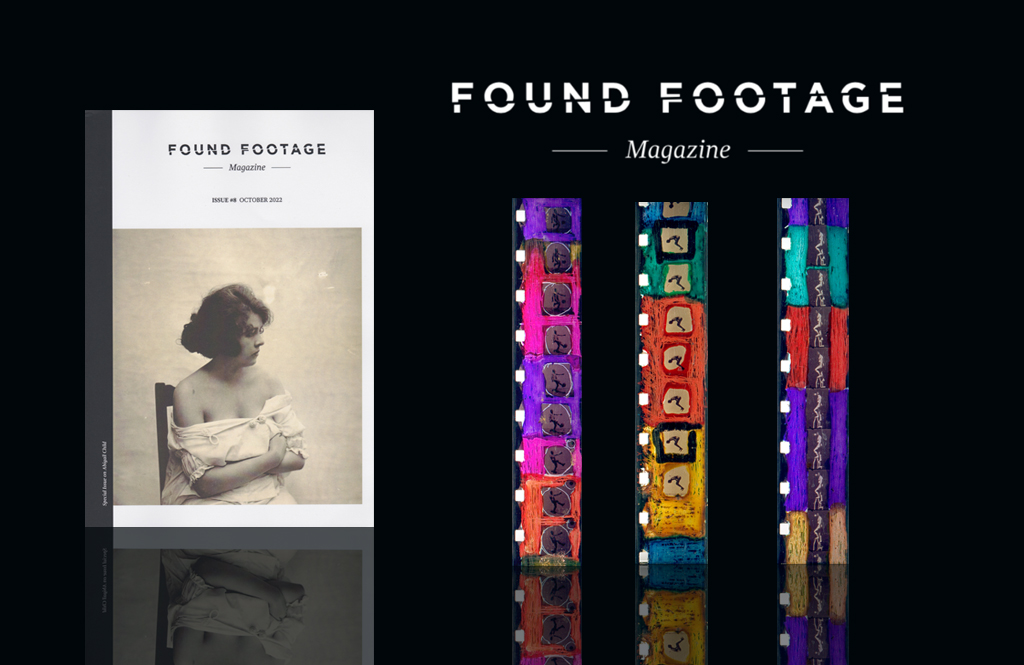 Contributors Found Footage Magazine issue#8:
Akosua Adoma Owusu, Cedric Arnold, Michael Betancourt, Eugeni Bonet, Eugènia Balcells, Lukas Brašiškis, Marie-Pierre Burquier, Abigail Child, Matthew Cole Levine, Federica Foglia, Cécile Fontaine, Rachel Garfield, Mike Hoolboom, Salise Hughes, Karissa Hahn, Matthew LaPaglia, Scott MacDonald, Pedro Maia, Camilla Margarida, Antoni Pinent, Jennifer Proctor, Gracia Ramírez, Justin Remes, Jeffrey Skoller, Andy Spletzer, Maureen Turim, César Ustarroz, Johanna Vaude, Jennifer West, and Theodore Xenophontos.
Abigail Child: We cannot control the pacing of this movie, by Gracia Ramírez
Watching an Abigail Child film for the first time feels like being bombed, tricked and tickled all at once. She interweaves seemingly unending arrays of stimuli drawn from bottomless piles of culture, all sources levelled up. She arranges them in sequences and submits them to layering, constant interruptions and repetitions, like someone tuning the radio, or hopping back and forth between TV channels. Sometimes there is synchrony between sound and image, or some continuity in the ordering of space and time—conventional cinematic cues that prompt the mind to search for meaning, recognize patterns and anticipate effects. But before we get too comfortable and savvy, Child thwarts those expectations and forces us to think again. Over the last forty years, she has used her multiple creative practices to explore meaning and culture in both serious and playful ways. Her work started to break new ground in the 1980s, engaging with the cultural voracity of the all-consuming eyes and ears of the multichannel TV generation, and with the DIY attitude and wholesale rejections of punk.
Through Child's work we can see ways in which ideas, texts and audiovisual images are adopted, adapted and shared in popular culture, resulting in a sustained argument about how culture is comprised of a never-ending process of circulation and connection.
'I want to speak with my time' radical biography in Abigail Ahild's Acts and Intermissions, by Jeffrey Skoller
Poetic questions and empathic ruptures: The Future Is Behind You, by Maureen Turim
The Suburban Trilogy: Abigail Child's Cake and Steak, by Rachel Garfield
A little of the transcendental universe of Abigail Child, an interview by Camilla Margarida
ESSAYS
Stan VanDerBeek's Danse Macabre: Found sound, appropriated music, and rehearing, by Michael BetancourtInto the Unknown Known: Images of depersonalized people in post-socialist found footage films, by Lukas BrašiškisRe-Enacting the Archives in Sam Ashby's The Colour of His Hair, by Matthew LaPagliaAmerican History Recontextualized: James Benning's American Dreams (Lost and Found), by Theodore Xenophontos
ARTICLES & INTERVIEWS
An interview with Jennifer Proctor, by Marie-Pierre Burquier
An interview with Jennifer West, by Scott MacDonald
Touching, by Mike Hoolboom
An interview with Salise Hughes, by Andy Spletzer
Chance encounters: A conversation with Cécile Fontaine, by Justin Remes
BOOK REVIEWS
· Making Images Move: Handmade Cinema and the Other Arts, by César Ustarroz Gregory Zinman. Oakland: University of California Press, 2020
· Persistent Images: Encountering Film History in Contemporary Cinema, by Matthew Cole Levine Andrew Utterson. Edinburgh: Edinburgh University Press, 2020
DÉMONTAGE: WHITE AFRO, by Akosua Adoma Owusu
ARTWORKS
by Eugeni Bonet and Eugènia Balcells, Cedric Arnold, Federica Foglia, Karissa Hahn, Johanna Vaude, Pedro Maia and Antoni Pinent.