« Icaro in la intimidade » by Gonzalo De Pedro (french and english translation below)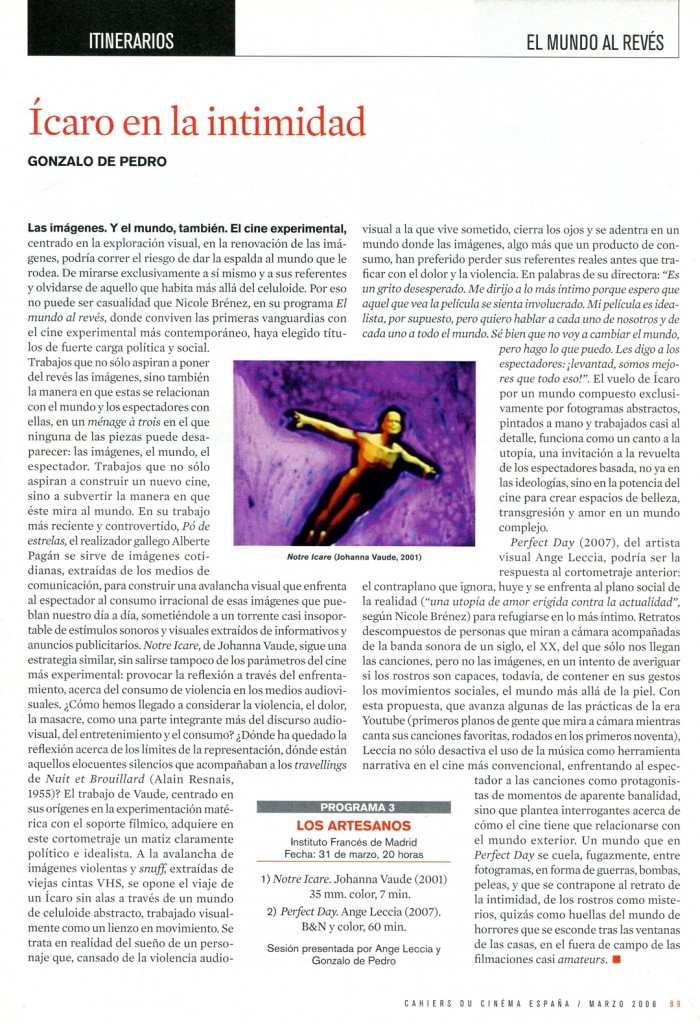 « Icaro in la intimidade » by Gonzalo De Pedro in Les Cahiers du Cinéma Espagnol N°10 , 20 mars 2008, page 69
ICARE DANS L'INTIMITÉ
Traduit de l'espagnol par Eric L. Sendra
Les images. Et le monde aussi. Le cinéma expérimental, centré dans l'exploration visuelle et dans la rénovation des images, pourrait courir le risque de tourner le dos au monde qui l'entoure. À force de ne se regarder que lui-même, de regarder ses référents et d'oublier tout ce qui habite par-delà la pellicule. Ce n'est donc pas un hasard si Nicole Brenez, dans son programme Le monde à l'envers où cohabitent les premières avant-gardes et le cinéma expérimental le plus contemporain, a sélectionné des films à fort caractère politique et social. Des travaux qui n'aspirent pas uniquement à mettre à l'envers des images mais aussi la façon dont elles se mettent en relation avec le monde et les spectateurs dans un ménage à trois où aucun de ces éléments ne peuvent disparaître : les images, le monde, et le spectateur. Des travaux qui aspirent non seulement à élaborer un nouveau cinéma, mais aussi à perturber la manière dont celui-ci regarde le monde.
Dans son travail le plus récent et le plus controversé, Pó de estrellas le réalisateur galicien Alberto Pagrán se sert d'images quotidiennes extraites de différents médias pour construire une avalanche visuelle qui confronte le spectateur à sa consommation irrationnelle d'images qui composent notre quotidien, en le soumettant à un torrent insupportable de stimuli sonores et visuels extraits de journaux télévisés et de bandes annonces publicitaires.
Notre Icare

de Johanna Vaude, suit une stratégie similaire, sans sortir lui non plus des paramètres du cinéma expérimental : provoquer une réflexion à travers l'affrontement, à propos de la consommation de la violence dans les médias audiovisuels.
Comment sommes-nous arrivés à considérer la violence, la douleur, le massacre, comme une partie intégrante de plus du discours audiovisuel, du loisir et de la consommation ? Où se trouve la réflexion des limites de la représentation ? Où sont les éloquents silences qu'accompagnent les travellings de Nuit et Brouillard ( Alain Resnais, 1955) ?
Le travail de Vaude, centré à ses origines sur l'expérimentation matériel du support filmique, acquiert dans ce court-métrage une nuance clairement politique et idéaliste. À l' avalanche d'images violentes et de snuffs, extraites de vieilles VHS, s'oppose le voyage d'Icare sans ailes à travers un monde de celluloïd abstrait, travaillé visuellement comme une toile en mouvement.
Il s'agit en réalité du rêve d'un personnage qui, fatigué de la violence audiovisuelle à laquelle il est confronté, ferme les yeux et pénètre dans un monde où les images, étant un peu plus qu'un produit de consommation, ont préféré perdre leurs référents réels plutôt que de jouer avec la douleur et la violence.
Des mots mêmes de sa réalisatrice :

« C'est un cri désespéré. Je m'adresse à ce qu'il y a de plus intime car j'espère que quiconque verra ce film se sentira engagé. Mon film est idéaliste, bien sûr, mais je veux parler à chacun d'entre nous et de chacun de nous à tous. Je sais bien que je ne vais pas changer le monde, mais je fais ce que je peux. Je dis aux spectateurs : Levez-vous, nous sommes meilleur que tout cela ! »

Le vol d'Icare à travers un monde composé exclusivement de photogrammes abstraits, peints à la main et travaillés au détail près, fonctionne comme un hymne à l'utopie, une invitation à la puissance du cinéma pour créer des espaces de beauté, de transgression et d'amour dans un monde complexe.
Perfect Day (2007), de l'artiste visuel Ange Leccia, pourrait être la réponse au court – métrage antérieur (…)

ICARUS INTIMATE
by Gonzalo De Pedro
Images. And the world also. Experimental cinema, centred on visual exploration and renovation of images, could run the risk of turning the back on the surrounding world by dint of looking at itself and at its referents and of forgetting all that exists beyond it. It is not by accident if in her program "The world inside out", where the first avant-gardes and the most contemporary experimental cinema live together, Nicole Brenez selected films with strong political and social character. Such works tend to put inside out not only the images, but also the way they relate with the world and the spectators in a ménage à trois where none of these elements can disappear: the images, the world, and the spectators. These works have the ambition not only to elaborate a new cinema, but also to disturb the way it looks at the world.
In his most recent and controversial work, "Pó of estrellas", the Galician director Alberto Pagrán makes use of daily images taken from various media to build a visual avalanche which, by submitting the spectator to an unbearable torrent of sound and visual stimuli extracted from television news and trailers, confronts him with the irrational consumption of images composing his everyday life.
Johanna Vaude's « Notre Icare » follows a similar strategy to achieve the purpose of the experimental cinema, which is to lead, through confrontation, to a reflection on the consumption of violence in the audiovisual media.
How did we manage to consider violence, pain and slaughter as an integral part of the audiovisual scene and of the leisure and consumption activities? Where is the reflection on the limits of the representation? Where are the eloquent silences accompanying the tracking shots of Alain Resnais' "Nuit et Brouillard" (1955)?
Johanna Vaude's work, originally centred on the cinematic support as an experimental material, acquires in this short film a clearly political and idealistic nuance.
Opposing the avalanche of violent images and snuffs extracted from old VHS, this is the journey of an Icare without wings through a world of abstract celluloid, worked visually as a painting in movement.
It is really about the dream of a man who, tired of the audiovisual violence to which he is confronted, closes his eyes and penetrates into a world where images, being a little more than consumables, lose their real referents rather than play with pain and violence.
According to the filmmaker, it is a cry of despair: "I appeal to the most intimate since I hope that whoever will see this film will feel committed. My film is of course idealistic, but I want to speak to each of us and of each of us. I know very well that I am not going to change the world, but I do the best I can. I tell the spectators: Get up, we are better than all this!  »
The flight of Icarus through a world consisting exclusively of abstract photograms, hand painted in minute detail, works as an hymn to utopia, an invitation to the power of cinema to create spaces of beauty, transgression and love in a complex world.

Perfect Day

(2007), of the visual artist Angel Leccia, could be the answer to this short film (…)