INCUBATE : Open Film Program ! Tilburg – Netherlands. Festival dates : 16 – 22 Sept 2013
Belle nouvelle ! SYSTEM OVERLOAD sélectionné à Incubate 2013, pour son programme d'ouverture Expérimental 1, mardi 17 Septembre de 18h00 à 19h00 à Duvelhok ! Incubate est un festival d'art multidisciplinaire qui a lieu chaque année à Tilburg en Hollande.
Great News ! My New film SYSTEM OVERLOAD selected at the Incubate 2013 for the Open Film Program Expérimental 1 ! Screening dates : Tuesday, September 17 from 18:00 to 19:00 at Duvelhok. Incubate is a multidisciplinary arts festival in Tilburg, the Netherlands.
See the complete Open Film program here !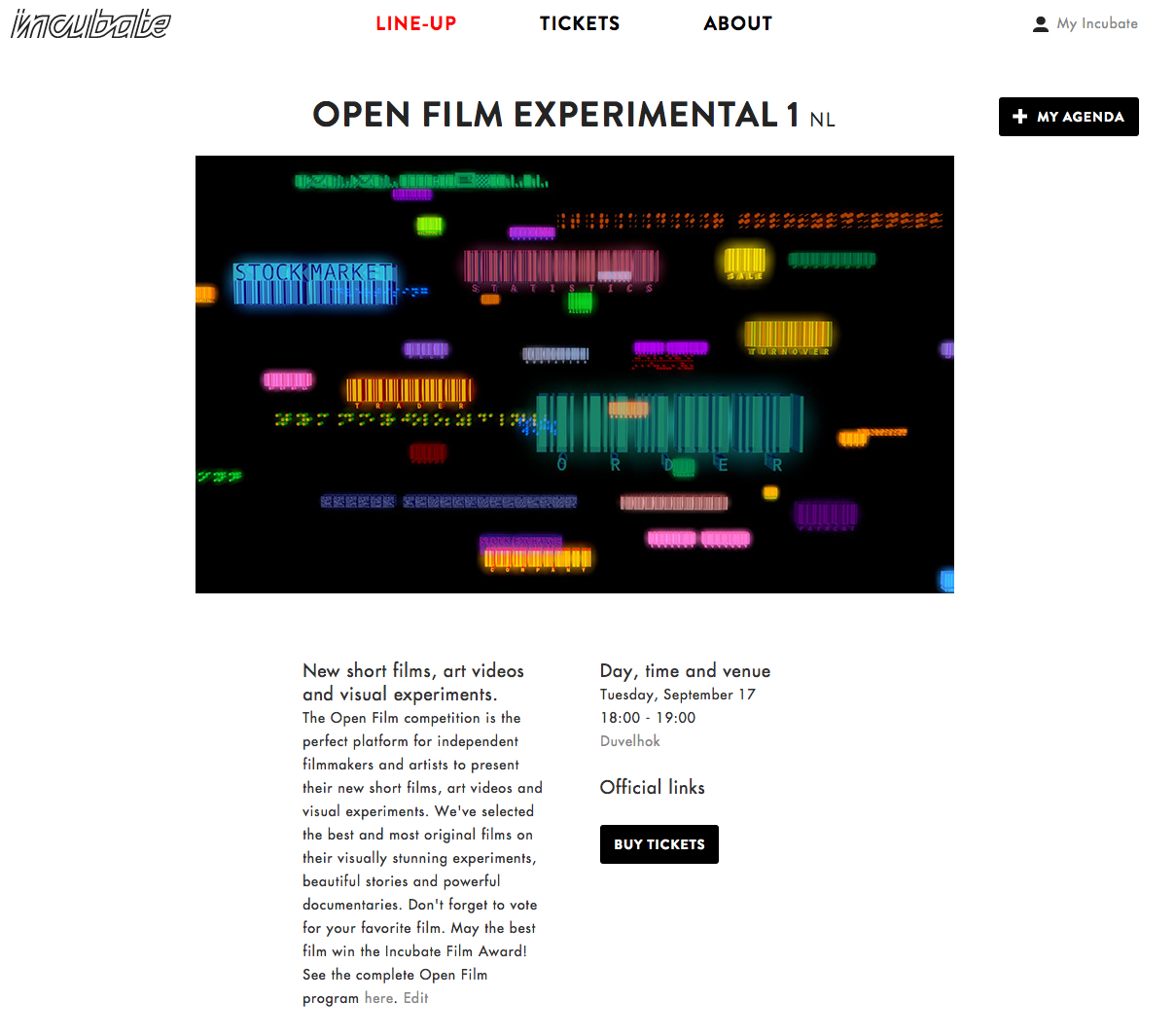 Incubate is the annual festival of cutting edge culture in Tilburg, the Netherlands taking place in September. It is a festival exhibiting a diverse view on indie culture as a whole, including music, contemporary dance, film and visual arts. It brings more than 200 cutting edge artists in an intimate context to an international audience. Black metal next to free jazz. Street art next to academic dance. Besides the yearly festival the organisation also hosts monthly showcases of bands under the name Incubated.
In 2005 ZXZW started as a two-day underground punk, hardcore and electronic music festival with 47 artists. Within three years it developed into a festival which spreads over 8 days and welcomes over 200 artists. The festival not only broadened its program by adopting a wide range of musical styles (from jazz to free folk and dance), but also by programming film, lectures and visual arts. All this happens in small clubs, pubs and galleries around Tilburg. In 2008 the people of Tilburg voted for ZXZW as the best event in their town.
Incubate has an independent culture blog, a blog on non-Western dance music, hosts several art-nights throughout the year and released the Social Festival Model: a wiki-styled website (using wetpaint) where everybody can read and alter the business, marketing and policy plans.
SYSTEM OVERLOAD TEASER :