A l'occasion de la série documentaire consacrée aux robots sur la radio France Culture, je décrypte ma vidéo « I'm more than a machine » créée pour l'émission Blow Up Arte.
Mon intervention est diffusée dans le premier épisode : lundi 1er Mai 2017 à 17h00.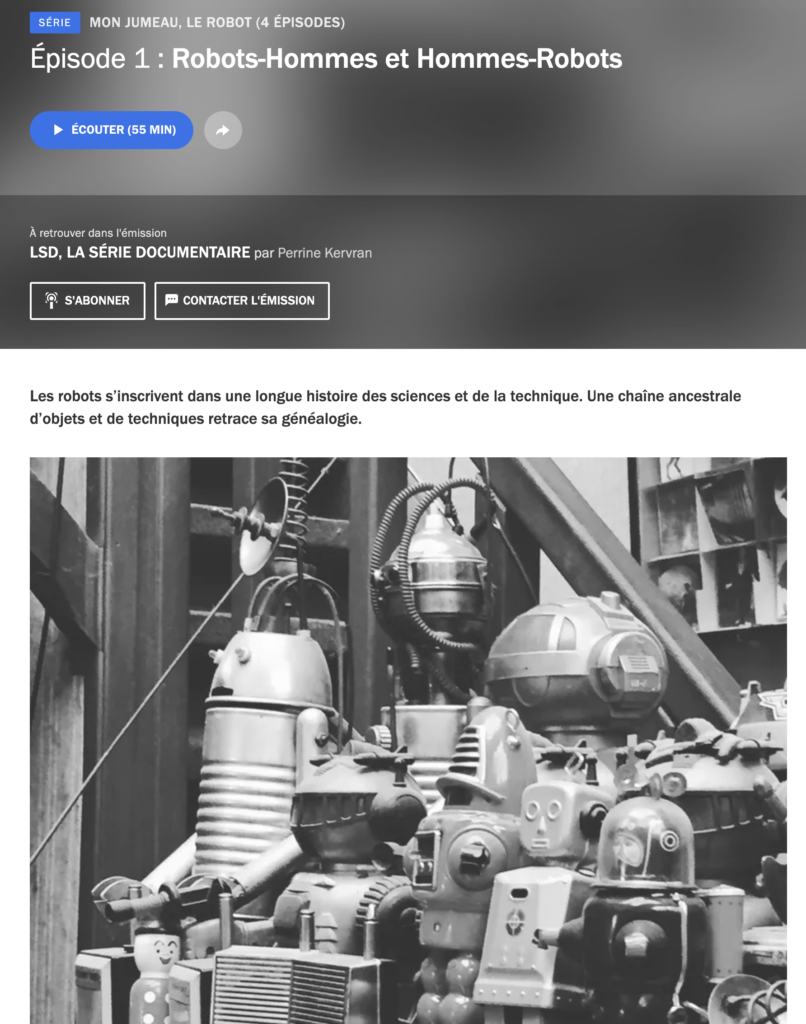 L'émission sera disponible en poadcast après diffusion.
During a documentary series about robots at the french radio « France Culture », I talk about my video « I'm more than a machine » created for Blow Up Arte.
My speech will be broadcast Monday, 1 May 2017 at 5:00 p.m.
The programme will be available in poadcast after diffusion (only in french)
Détails de l'émission :
Du 1er au 04 Mai 2017 – tous les jours de 17h à 18h, La série documentaire « Mon jumeau, le robot » de Maylis Besserie, réalisation Anna Szmuc
Episode 1 : Robots-Hommes et Hommes-robots
Avec Georges Proust, Jacques Attali, Pascal Pinteau, Jean-Claude Heudin, Johanna Vaude, Karine Alexandrian et Aurore Chiquot
Episode 2 : « Travailler comme un robot »
Avec Pascal Pinteau, Daniel Ichbiah, Jean-Luc Thomé, Mercedes Bueno-Garcia, Jean-Christophe Smal, Catherine Simon, Guillaume Morel, Christian Dujardin et les étudiants de l'école EPITA, Cédric Delmas, Benoît Peeters et François Schuiten
Episode 3 : « Il faut sauver le soldat robot »
Avec Blanca Li, Raja Chatila, Philippe Bidaud, Christophe Grand et les équipes de l'ONERA et Cyril Kabbara.
Episode 4 : « Un robot qui me veut du bien »
Avec Jean-Claude Heudin, Rodolphe Gélin, Aurore Chiquot, Michel Burger, Daniel Ichbiah, Pascal Pinteau, Mohammed Chetouani, Blanca Li, Kathleen Richardson, Raja Chatila, Catherine Simon et Alain Bensoussan